'All the Things' you should know about being a new Aggie Mom.  Whether it's about moving day, or attending their first sporting event, you will find tip sheets below.  We also have a question board that you can use to email any questions or suggestions.  It is our goal to make you and your Aggie feel welcome and at ease as you join our Aggie family!
Come meet and hear tips/wisdom from Aggie moms on getting through the first year at Texas A&M. Bring your questions and we will do our best to answer or point you in the right direction. 
Thanks for joining us at Birraporetti's Friendswood!  We look forward to seeing you at our next event!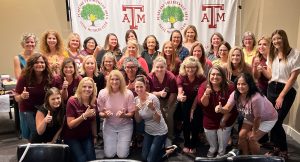 Got Questions? We have (or will find out) answers!
SPECIAL THANKS TO OUR DONORS: